FIESTA ISLAND, CA– In conjunction with Black History Month the Umoja program of Grossmont College and Cuyamaca College students were invited to participate in a joint community beach cleanup service.
Umoja, which stands for Unity in Kiswahili, mission statement is to "serve educationally and economically disadvantaged students…students develop self-efficacy and foundation for academic success.
The beach clean up at Fiesta Island, was held late February  to bring Grossmont college students together, as well as to serve the community. Interim Director of Student Affairs, Patrice Braswell-Burris stated "the beach clean up was an activity adopted by the Inter-Club Council, ASGC Inc., and Student Affairs as part of MLK Day of Service."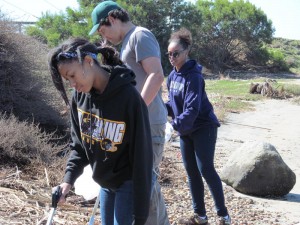 From the freeway, Fiesta Island appeared clean, but upon reaching the shores the beach clean up crew gathered three large garbage bags full of trash. Patrice Braswell-Burris, who also helped organize the clean up stated, "Anytime students are provided with the opportunity to give back to the community, I find that to be a wonderful success."
Keyonna Walton, a Grossmont College student who helped with the beach clean up, says that she loves the fact that she was "able to meet and interact with new people from campus, being able to take part in helping to keep our beautiful beaches clean for our community to enjoy".
For more information on how you can get involved with more community service projects contact, the Grossmont College ASGC.