MONETIZING ACTIVISM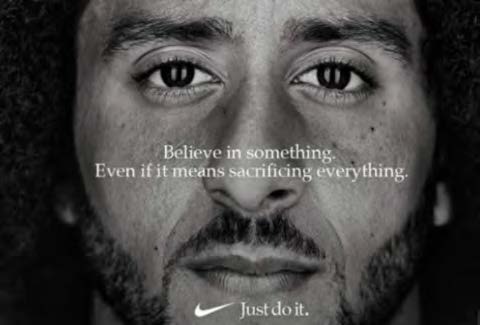 After Nike announced its endorsement with the former 49ers quarterback-turned-activist, the company's stock took a huge jump. Is their partnership one of ethics, or is it all business?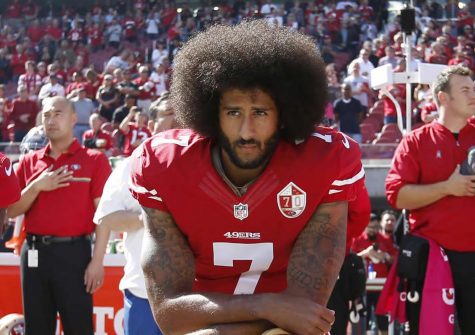 There are many who believe that Colin Kaepernick's stance (or lack thereof) is the reason as to why the NFL ratings have taken a hit recently. Pundits and viewers have claimed his actions
have detracted them from tuning in on Sundays.
The NFL itself must have felt that narrative was true as well, as they even changed the rule and now must require players to stand for the anthem if they are on the field.
Ironically, Nike, the biggest sporting apparel company in the world and the same company that manufactures the jersey for all 32 NFL teams, announced Kaepernick would be the face of their "Just Do It" 30th anniversary campaign.
Kaepernick joins other Nike athletes like Lebron James and
Serena Williams, whose impact has risen above their respective sports as they have become more outspoken about political and social issues. The lines are blurred as to why The Swoosh struck its deal with Kaepernick. Many have said this signing falls right in-line with their ideology of "athlete-activist," while others feel this move was to line Nike's pockets with more millions.
The fallout has been polarizing, as some have gone as far to boycott the biggest sporting apparel company in the world. But, that hasn't been reflected in the numbers. Nike's stock reached its
record high soon after the announcement, according to Forbes. I've decided to ask students at Grossmont College what they think about Nike's move and how they view Kaepernick's message.
"It's a power move," said student Connor Farrow. "It gets more eyes on a brand that is already on top of the sports world."
Johan Carter said Nike may help return to Kaepernick's original message.
"The reason as to why kneels kinda got lost in the shuffle," Carter said. "Hopefully Nike can bring the real reason as to why he kneeled back to light."
Not everyone  is  optimistic  about  the endorsement; some students have contrasting views.
"I get his message, but the means as to which it is delivered is awful," Kayla
Fitch said. " aligning themselves with that image of him kneeling will cause them to lose credibility in the eyes of many." Fitch's last statement rings true, as illustrated by a Grossmont student who has boycotted the brand.
"For Nike to even get involved in the situation is ," J.D. Brooks said. "One of the most monopolistic brands pairs up with one of the worst representations of activism in sports; count me out." Nike's slogan reads, "Believe in something, even if it means sacrificing everything." That will also stand true for The Swoosh.