Griffin on the Gridiron
Grossmont's very own Tim Patrick is turning heads in the NFL.
"Tim's a damn good NFL receiver," Denver Broncos Head Coach Vic Fangio said.
The coach was talking about Tim Patrick, a wide receiver for the Denver Broncos who sports jersey number 81 on the field. But Patrick's journey to the NFL started right here at Grossmont College's football program under head coach Michael Jordan. 
As a standout star at University City High School, Patrick ended his senior year with no college offers. He decided to attend Grossmont College 20 minutes down the road.
Patrick amassed 678 yards and nine touchdowns, averaging 75.3 yards in only nine games, which undoubtedly caught the attention of the NCAA's D-1. Patrick eventually left Grossmont on scholarship to Utah University, where he garnered attention for his impressive play. 
While Patrick was successful in his time with the Utes, he still suffered from ups and downs with being sidelined most of the year with injuries, including a broken leg in his senior year, which ultimately led to him being undrafted out of college in 2017 and being picked up by the Baltimore Ravens as an undrafted free agent.
Patrick would begin bouncing around the NFL, being let go by Baltimore that same year, then picked up by the San Francisco 49ers and once again let go. Patrick's final opportunity came with the Broncos practice squad in October 2017. Patrick at the time wouldn't know it, but this would be the beginning of his rise to the top as an elite NFL wideout.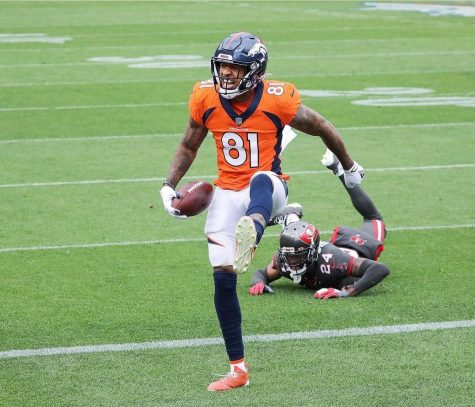 When asked how he felt about being underrated in a post-game press conference, he had this to say:"I'm never going to get viewed as that guy just because I wasn't drafted so they think my ceiling isn't high, but I'm a different type of undrafted guy so my ceiling is pretty high."
Patrick has recently become a star in Denver with an incredible 2020 season in which he grabbed 51 receptions with over 742 yards and six touchdowns. After practice, Broncos wide receiver coach Zach Azzanni said this about Patrick's rise to success: "He just kept getting better little by little by little, He never complained about not getting opportunities Year 1 or Year 2, Tim just kept working and the ball finds energy and he finally started to get the ball."
Patrick is now 27 years old in his fifth year in the league and boasts a league-best 126 consecutive catches without a drop since his rookie year 2017. Most people doubted Tim's ability to catch the ball when he entered the league, but today he leads the league in no drops.
Patrick at every turn has proven his doubters wrong and continues to set the stage for his team to be successful. He is currently one of two receivers in the NFL with a perfect passer rating when targeted with a 158.3 average alongside the Seattle Seahawks elite wide receiver in Tyler Lockett. Patrick is already starting the season off with incredible numbers and is right now on pace to catch over 65 passes with 986 yards and 25 touchdowns. While the 25 touchdowns will be more than likely impossible to amass, it shows how much chaos he's currently creating for opposing teams. At 6-foot-4, 212 pounds, with an 81-inch wingspan, he's almost impossible to cover, which should make for a stellar 2021 season.
"I couldn't be more proud of the kid," Azzanni said. "He's turned himself in from a player to a pro. And you're reaping the benefits now."