Once Upon a Time in… Hollywood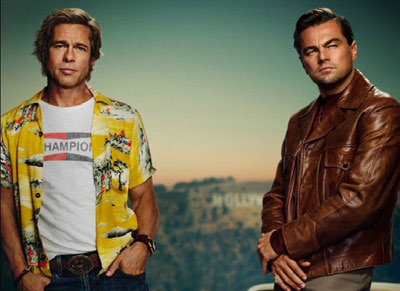 Quentin Tarantino's ninth film, Once Upon a Time… in Hollywood, was released in American theaters in late July, and was welcomed by nearly only positive reviews. The film received praise for many of its elements over its two-hour and 40-minute runtime.
Critics spoke highly of the strong performances by Leonardo DiCaprio and Brad Pitt, the varied 1960s soundtrack, the authentic vintage set pieces and the nail-biting climax of the film, just to name a few. The film currently holds an 8.1/10 on IMDb, a "certified fresh" 85% on Rotten Tomatoes and an 83% on Metacritic.
However, some reviews criticized aspects of the film as well. Many reviewers thought the film dragged a bit during its second act, especially while on the Western set with Rick Dalton, one of the more lengthy scenes in the film.
Tarantino was also criticized for his under-use of actress Margot Robbie for the film. Critics argued that for the great
actress she is known to be, her screen time was surprisingly sparse in the final cut of the film. Other parties believed Tarantino's well-known foot fetish went a bit over the top in this go-around, but that's another conversation altogether.
Among a handful of Grossmont students asked about the movie, the consensus was it was generally well liked,
except in some specific areas.
First-year child development major Kailie Briggs had a high opinion of it. "This is going to have to be one of my top three favorite movies," Briggs said. "It was so much fun to watch, and I loved all the '60s elements of the film. The style, the cars, the Hollywood location— it was just all so great. Also, Margot Robbie does an incredible job bringing Sharon Tate to life and brings a really fun energy to every scene that she is in. Seeing it a second time is just as fun as the first.
"It's like Splash Mountain," she continued. "You know that insane finale is coming up, and that's by far the best part of the ride, but you enjoy the other parts too, cause they're just fun."
Holden Shaeffer was another student who liked the film. "I thought the movie was a super refreshing narrative after his last film, The Hateful Eight, which his second blood-filled Western," Shaeffer said. "It did kind of slow down a bit around the middle of the film, but it was more than made up for by the dazzle of the '60s motif throughout the film."
Sam Grant, a Grossmont student currently doing a double-major in media communications and audio production, noted: "It was a bit different than I expected, but I loved how he took a true story and put his own spin on it with that twist ending, where heroics prevail instead of a tragedy. It just makes for a much more enjoyable film."
The only mixed review came from media arts major and member of the Grossmont Film Club, Brendan McDonald.
"I was kind of underwhelmed by the film, if I'm being honest," McDonald said. "As a film student, I highly respect Tarantino's work, and it's just that I expect better from him than what we got this time around.
"The plot was unfocused and I really feel the second act was extremely bloated and slow compared to the first and third acts," he added.
McDonald added that he didn't wholly dislike the film. "It kind of seems like I'm hating on the movie, but I enjoyed my time at the theater with it," he said. "The music was fun, the dynamic between Leo and Brad was super-cool to see, and it was super-stylish. I just wish it flowed a bit better."
Another film student, Jake O'Mara had his own detailed take on the film, which he called "surprisingly subdued" and "calm." O'Mara explained: "He takes his time to flesh out multiple stories that weave throughout the film while
maintaining the sinister backbone of the Manson Family story that lingers in the background.
"Leo and Brad both bring some major star power, but it's Pitt who steals the show," O'Mara continued.
"He's cool, calm and collected throughout the entire film, and the scenes of him driving throughout LA are some of my favorite in the entire movie."
Grossmont History major Calvin King said he has seen the film four times. "I think it's probably one of Tarantino's best-written films, with strong performances from Pitt and DiCaprio," King said. "The attention to detail when it comes to his depiction of 1969 Hollywood is also extremely impressive and adds to the immersive nature of the film."
The consensus seems to be that, even if Once Upon a Time… in Hollywood doesn't have the components of a
conventional masterpiece, all these students enjoyed their time at the theater. Though the movie wasn't narratively perfect, isn't personal enjoyment why people go to the movies? Because if it is, then mission accomplished.
More than a month later, Once Upon a Time… in Hollywood is still in theaters, and Tarantino and Pitt are rumored to be part of the Academy's nomination for "Best Original Screenplay" and "Best Supporting Actor," respectively.