Grossmont Theatre Presents: Love Scenes
Theater students act out love scenes from various plays,touring the show to local high schools.
The flyers were pinned up all over campus the last few weeks advertising "Inside The Actor's Process: Love Scenes". The title of this play didn't seem traditional, like the type of play that Grossmont's Theatre department is known to showcase. It initially seemed very different. 
The production was more unique than most shows, but that's not to say it was a bad product; not by any means.
To end any confusion, the title of the production was exactly what it said it was. A group of 10 theatre students reenacted numerous love scenes from different plays of various genres and settings. 
The actors never stopped to clarify that they were moving on from one setting to another; that was up for the audience to figure out, which may have confused some viewers. Given that there were just 10 actors on stage with about five or six different plays portrayed in a span of no more than 50 minutes, it was often tough to follow when new characters and settings were introduced,with each actor playing up to three characters throughout the entire production. However, the acting itself was quite good, as the actors seamlessly switched from one character to the next while transitioning settings. 
"
You have to get into the mind of so many different characters."
— Cole Atencio
The actors' outfits were black; from head to toe, which matched the empty propless set. Given that the production was a bunch of miniature plays put into one short production, it was probably wise to keep the costumes and set as basic as possible avoiding any unmatching of scenes with the set. 
The basic black outfits gave the impression that these scenes may be improv, which was not the case, but gave the whole production a very loose and fun feel. It was made evident by how the actors presented themselves that the production was very enjoyable to act out. It was refreshing to see the actors having so much fun on stage while also doing an excellent job of performing. 
The actors all seemed to be having a good time on stage, but it took a lot of work to prepare themselves to be two to three completely different people in just one show. 
"It's an interesting process," said actor Cole Atencio. "You have to get into the mind of so many different characters."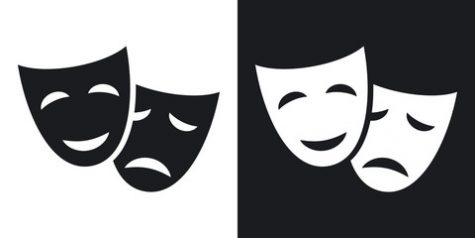 It took a little while to get everything memorized, but once we got the lines down everything fell into place pretty quickly," he added. 
The production of "Love Scenes" is set to tour a number of high schools across San Diego County. 
"I enjoy taking this show to different high schools," said Atencio, "It gives them a chance to see what the Grossmont Theatre program is like and ask any questions that they might have about what college is like."  
He continued: All the schools we have visited have been really respectful and interested in what we're doing. I'm just hoping that will be the same at the rest of the stops in the tour."
This will be the fifteenth year of the Grossmont theatre department touring high schools.
"A lot of times students don't have rides," said Alexis Popko, the theatre operations facilitator at Grossmont College. "So we go out to them. We have to do 40 to 50 minute presentations because it fits in their class schedule."
Popko also noted that the Rotary Club, the Foundation at Grossmont and Cuyamaca Colleges and the Associated Students of Grossmont College provided the funds for the van that the cast has used to showcase their plays. 
"Love Scenes" tour will continue on until March 18. The next Grossmont Theatre production will take place March 12 as the department presents their rendition of Bruce Norris' "Clybourne Park".